COVID-19 Update: We are open from Monday 9th Aug
We will be reopening on Monday 9th August. Restrictions will be in place to support social distancing requirements and face masks must be worn at all times when visiting our centre. Remember check in via the Check In QLD QR code at the entrance. Please refer to our COVID Updates page for more information.
Welcome to Mudgeeraba Aquatic Centre
Based in Mudgeeraba QLD, the Mudgeeraba Aquatic Centre offers you a range of health and leisure facilities and services. The centre features an outdoor heated 25m pool, indoor program pool and an outdoor leisure pool with water features.

Our six-lane, outdoor heated 25m swimming pool is perfectly designed to be used by lap swimmers of all ages and speeds, this pool can be used by people simply looking to cool off on a hot day. Heated to 33°C our indoor program pool is the ideal environment for rehabilitation or assisting people who are suffering or recovering from sore muscles, stiffness and arthritis.

Enjoy a day of casual swimming, aqua aerobics classes or learn to swim through our new and effective swimming and water safety program, GOswim. We look forward to welcoming you to the centre and providing you with the best health and leisure experiences possible.
Opening Hours
Monday, Wednesday & Friday
6:000am - 6:00pm
Tuesday & Thursday
6:00am - 6:00pm
Saturday
6:00am - 4:00pm
Sunday
9:00am - 3:00pm
Discover Mudgeeraba Aquatic Centre
Take your first steps with a Free 7 Day Pass and see what Mudgeeraba Aquatic Centre has to offer you!
08:01PM
16 Dec 19 - 20 Dec 19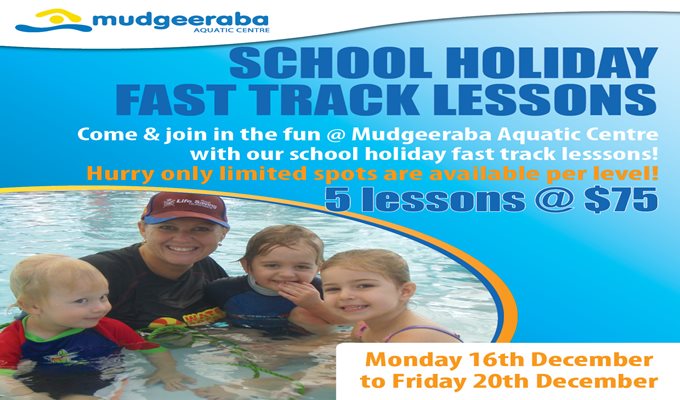 Fast Track Program - December
Aquatics
Join our december Fast Track Program!

This intensive program will fast track your children's swimming abilities to much higher levels!
Aquatic Lessons
Mudgeeraba Aquatic Centre offers many different swimming programs for all ages and all levels.
Introducing Active World
Introducing Active World – the self-managed portal bringing your membership into the palm of your hand!
How to prepare for a water safe Summer
With the weather starting to heat up and Summer on the horizon, now more than ever it is important to get you and your loved ones water safety ready! To some, the thought of learning to swim may come with associations to a competitive sport - something they see in the Olympics. However, life can throw several curve balls, many of which may require the knowledge of how to swim. Keep reading to find out more.
Learn2Swim Week
Drowning is the number one cause of accidental death in children under five, with swimming pools the most common location for toddler drownings. Learn2Swim Week aims to introduce water safety to kids under five and ultimately reduce drowning fatalities.
R U OK? Day
Much like 2020, 2021 has been a challenging year, to say the least. Due to government-mandated lockdowns, we have all endured numerous lockdowns which can take a significant toll on our mental health. R U OK? Day is here for 2021 and it is a great opportunity to check in on those around you.